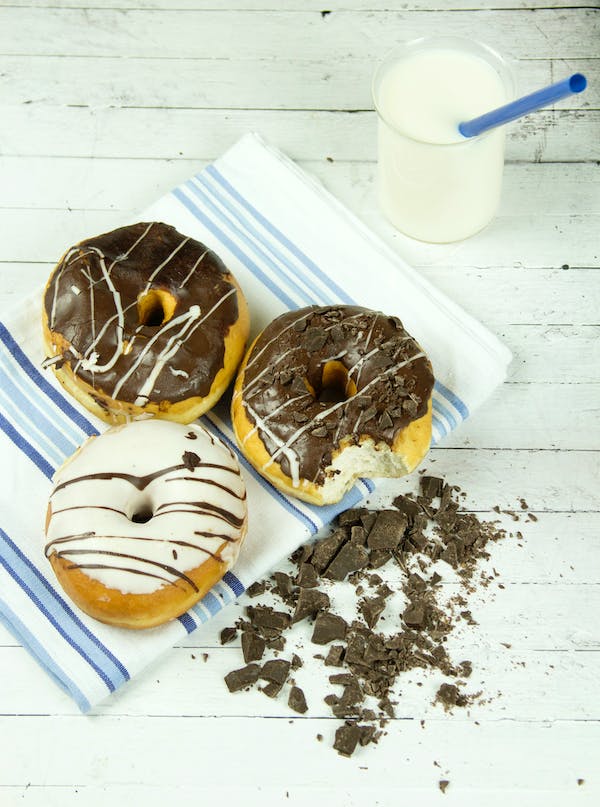 Vegan Banana Chocolate Donuts
Donuts hold a special place in our hearts. That soft, tender bite into a well-prepared donut is a moment of pure bliss. But what if we told you that you can indulge in this delightful experience without a hint of guilt? Yes, you heard it right! Vegan Banana Chocolate Donuts brings you the joy of savoring a donut without compromising your values and health.
These delicious delights redefine the concept of donuts. They're more than just a treat. They celebrate flavor and compassion. Our recipe is thoughtfully designed to incorporate the irresistible taste of donuts while maintaining their vegan integrity. So, are you ready to start on a culinary journey that combines the rich, familiar flavor of donuts with a vegan twist?
Ingredients and Preparation
The vegan donuts require just seven essential ingredients, ensuring simplicity and accessibility. You can launch your donut-making adventure with standard pantry items like flour, baking powder, sugar, and buttermilk (the vegan version).
The preparation process is an artful blend of whisking dry ingredients, gently combining them with the wet ones, and creating the perfect donut dough. Shape, fry, and sugar-coat your way to delicious vegan donuts without a mixer or elaborate kneading.
Ingredients You'll Need
To create these delicious vegan donuts, you'll need the following ingredients:
All-purpose flour (go for unbleached for the healthiest option).

Baking powder is a crucial ingredient to make your donuts puff up perfectly.

Standard table salt.

Buttermilk (real buttermilk, not a substitute like milk and vinegar).

Granulated for the donut dough and rolling.

Melted butter adds rich flavor to your donuts.

Vegetable oil for frying.
Making Vegan Donuts from Scratch
Here's how to make these delectable donuts:
Preheat a deep sauté pan or pot over medium heat with vegetable oil.

In a mixing bowl, whisk together the dry ingredients: flour, granulated sugar, baking powder, and salt.

Whisk the buttermilk and melted butter in a separate bowl or measuring cup.

Combine the dry and wet ingredients, stirring until they come together.

Gently roll the dough into small balls of about half a tablespoon each.

Carefully place the dough balls into the preheated oil, frying half of them at a time. Fry until they're golden brown on both sides.

Use a spider or slotted spoon to transfer them to paper towels, let them drain, and then roll them in sweetener.
Donut Glaze Options
You can top your vegan banana chocolate donuts with various glazes, including:
Classic vanilla glaze (made from powdered sugar, milk, and vanilla).

Rich chocolate icing (add unsweetened cocoa powder to the vanilla glaze mixture).

Cinnamon sucrose or pumpkin spice sugar.

Plain powdered sugar.
Nutritional Value
One of the key advantages of these vegan donuts is that they're considerably healthier than traditional versions. Using vegan ingredients eliminates dairy and animal products, making them a better choice for those with dietary restrictions. These donuts are not only vegan but also egg-free and dairy-free.
Tips for the Best Vegan Donuts
For perfect results, follow these tips:
Use a deep-fry thermometer to check the oil temperature.

Fry the donuts in small batches; overcrowding the pan lowers the oil temperature.

Rolling the donuts in granulated is essential for that delightful sweetness.

Freshly fried donuts taste best on the day of preparation; their texture changes if stored.
Exploring Variations
The world of vegan banana-based recipes is versatile. You can create vegan sweets with ripe bananas, including banana bread and brownies. Vegan desserts like these donuts offer room for creativity and experimentation. Whether you prefer a traditional donut or a unique dessert creation, vegan recipes will satisfy your sweet tooth.
Serving Suggestions
Enjoy your freshly made vegan donuts with your favorite sides and beverages. Whether you serve them with a hot cup of coffee or a glass of almond milk, these donuts are versatile and pair well with various options. Get creative with your presentation and encourage guests to customize their donuts with different toppings.
Delectable Chocolate Glaze
One of the highlights of these vegan donuts is the irresistible chocolate glaze. The rich, silky texture and deep chocolate flavor elevate the taste of these donuts. The chocolate glaze plays a significant role in enhancing their overall flavor. You can even experiment with variations of the ice to suit different preferences.
Encouraging Reader Interaction
We value our readers and welcome your thoughts and experiences. Feel free to share your feedback, suggestions, and questions about our recipes. Engaging with our readers is vital for creating a sense of community and enriching the content with your insights.
Conclusion
Vegan Banana Chocolate Donuts are perfect for those seeking a healthier dessert without sacrificing flavor. These delightful donuts provide a lovely snack for any occasion and allow you to get involved without guilt. Whether you prefer the classic sugar-coated version or wish to experiment with unique toppings, these vegan donuts are versatile and tasty.
So, why not welcome the pleasures of homemade donuts and savor the satisfying rewards of this delightful treat? With Vegan Banana Chocolate Donuts, you have the power to enjoy an irresistible dessert while staying true to your values and health. It's a culinary journey that promises to be a delightful one.
Frequently Asked Questions
Are these donuts wholly vegan and dairy-free?
Yes, these donuts are entirely vegan, egg-free, and dairy-free.
Can I make the donuts ahead of time and reheat them?
While freshly fried donuts are best, reheat them in the oven or microwave if needed.
What's the best way to store leftover donuts?
Please place them in an airtight container to maintain their freshness.
Can I use other glaze options besides chocolate or vanilla?
Absolutely! Get creative and experiment with different glaze flavors to suit your preferences.
Are vegan donuts a healthier dessert option than traditional donuts?
Yes, vegan donuts eliminate dairy and animal products, making them a healthier choice for those with dietary restrictions.