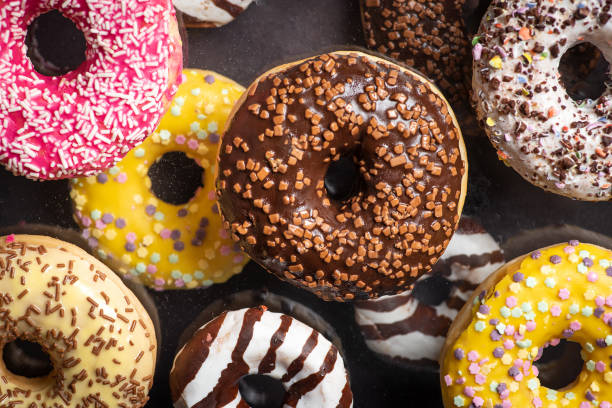 How To Make Gluten Free Donuts
If you've been yearning for a delightful gluten-free donut, look no further. Making gluten-free donuts is easier. With the right ingredients and a little know-how, you can enjoy these sweet, fluffy treats at home. In this article, we'll guide you through the process of how to make gluten-free donuts that are so good no one will believe they're gluten-free!
Ingredients You'll Need
Gluten-Free Flour Blend: The Key Ingredient
To create gluten-free donuts, you'll need a reliable gluten-free flour blend. Nicole Hunn's blend is a popular choice, but you can also make your own with a mix of flour such as rice flour, potato starch, and tapioca flour. The right flour blend is crucial for achieving the perfect texture.
Additional Ingredients for Flavor
In addition to your gluten-free flour blend, you'll need ingredients like sugar, baking powder, and salt. You can customize the flavor with cinnamon, nutmeg, or even cocoa powder. Remember dairy-free milk and eggs (or egg substitutes) to bind everything together.
Equipment Required
Donut Pan or Air Fryer: Your Choice!
You have two primary options for cooking your gluten-free donuts: a donut pan or an air fryer. The donut pan offers a more traditional shape, while an air fryer can provide a crispy exterior. The choice is yours, and both methods yield delicious results.
Pastry Bag for a Professional Touch
For perfectly shaped donuts, use a pastry bag to pipe the batter into the pan or air fryer. This adds a professional touch and makes the process easier.
Preparing the Donut Batter
Mixing the Dry Ingredients
In a mixing bowl, combine your gluten-free flour blend, sugar, baking powder, salt, and any additional dry ingredients you've chosen. Whisk them together to ensure an even distribution.
Combining Wet Ingredients
In a separate bowl, mix your dairy-free milk, eggs (or egg substitutes), and a touch of vegetable oil. For an extra burst of flavor, you can add a dash of vanilla extract.
Mixing It All
Now, it's time to bring the wet and dry ingredients together. Pour the wet mixture into the dry mixture and stir until just combined. Be careful not to overmix, as this can make your donuts challenging.
Shaping Your Donuts
Using a Donut Pan
If you're using a donut pan, spoon the batter into the molds, filling them about two-thirds full. Smooth the tops for even donuts.
Using an Air Fryer
For the air fryer, pipe the batter into the fryer basket using a pastry bag. Make sure to leave enough space between each donut to allow for proper cooking.
Baking or Frying: The Choice Is Yours
You have two cooking methods to choose from:
If you're using a donut pan, bake in a preheated oven until the donuts are golden brown.

If you're using an air fryer, set it to the appropriate temperature and cook until the donuts are crispy on the outside.
Glazing and Decorating
Classic Vanilla Glaze
For a classic touch, prepare a simple vanilla glaze using powdered sugar, dairy-free milk, and vanilla extract. Dip your donuts in the glaze and let them set on a wire rack.
Chocolate Glaze for Chocolate Lovers
Chocolate lovers can make a delicious chocolate glaze using cocoa powder. Dip your donuts into the glaze, and you'll have an irresistible treat.
Storing Your Gluten-Free Donuts
To keep your gluten-free donuts fresh, store them in an airtight container at room temperature. They should stay delicious for a few days.
Tips and Tricks
When measuring your flour blend, use the spoon-and-level method for accuracy.

If you prefer a healthier option, consider using an air fryer and reducing the oil.

Experiment with different flavorings and toppings for a unique twist on your donuts.
Frequently Asked Questions
Q: Can I use a gluten-free flour mix from the store?
A: Yes, many gluten-free flour blends are available commercially and work well for making gluten-free donuts.
Q: What can I substitute for eggs in the recipe?
A: You can use egg substitutes like applesauce, mashed bananas, or flaxseed meal mixed with water.
Q: Can I freeze gluten-free donuts for later?
A: Yes, you can freeze them in an airtight container for up to a month. Thaw and reheat as needed.
Q: Are these donuts as good as traditional ones?
A: Absolutely! Many people can't even tell the difference between gluten-free and traditional donuts.
Q: Can I make mini donut holes with this recipe?
A: Yes, adjust the cooking time for smaller donut holes in your chosen method.